Free Games
:
MMORPG
: Hyperiums, the Massive Galactic Wargame
Hyperiums, the Massive Galactic Wargame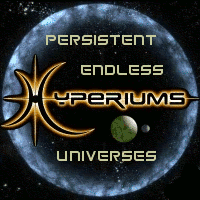 Free massively multiplayer sci-fi strategy & diplomacy game, 100% browser based (no download needed), featuring space and ground battles for planet conquest, trading, spying, alliances, politics... and much more. Running since early 2001, Hyperiums associates a very simple and original concept with a richness of possibilities that makes it one of the best rated games in its category. Hyperiums runs two never-ending persistent universes: the first one at standard speed, while the second one, more "Real Life Friendly", only needs one connection (or a few minutes) per day. 3 months games are also launched regularly. Hyperiums has gathered a great community of thousands of active and loyal players. Join us now, it's free and fun!
http://www.hyperiums.com
Please Rate this link from Bad to Good
Latest User Review
R.E
(5/5) Reviewed by User: nath14 on 2005-09-17
hyperiums is the greatest online game in the world its so good the teachers at my school play on it!!!!!!!!!!!!!!!!!!!!!!!
Read 10 Reviews
-
Add a Review
Free Games History

Free Games Statistics

Submitted by gogol1er
Submitted Tue Feb 01 2005
Last Update on Wed Jan 21 2009
Link ID: 1267
30393 hits since Tue Feb 01 2005
38 voters have rated it 5.07