Free Games
:
Free Games
:
Free Mahjong Games
: NingPo Mah Jong
NingPo Mah Jong
popular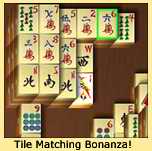 Relax while you enjoy this classic solitaire game of tile matching. Features include: multiple layouts, tile sets, and backdrops to choose from, plus great music, high scores, shuffle, undo, and hint options. Try it out today!
http://www.popcap.com
Please Rate this link from Bad to Good
Latest User Review
puzzle
(4/5) Reviewed by User: kizzimoro on 2009-03-06
nice graphics, cool tiles, but typical, basic mah jong.
Read 1 Reviews
-
Add a Review
Free Games History

Free Games Statistics

Submitted by admin
Submitted Sun Aug 17 2003
Last Update on Thu Dec 04 2003
Link ID: 923
102806 hits since Sun Aug 17 2003
This link is Popular
148 voters have rated it 6.33