Free Games
:
Free Online Games
: Rocket Mania
Rocket Mania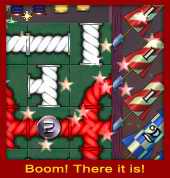 PopCap's new pyrotechnic puzzler is here! Twist and turn the fuses to link a burning match to one or more rockets, then watch the sparks fly! Upgrade your rockets for bigger bangs by collecting coins along the way. But watch out - set off your fireworks by dawn or the show is over! How many can you launch at one time?
http://www.popcap.com
Please Rate this link from Bad to Good
Latest User Review
Great Games
(5/5) Reviewed by User: Jammer on 2003-08-17
Played this for hours the first time I tried it... I acheived a ranking of Apprentice - beat that. I loved trying to line up as many rockets as possible before lighting the fuse, the most I managed was 6 which was quite a sight. I really recommend this game if you love puzzle type games that are quick to learn, but take ages to master.
Read 1 Reviews
-
Add a Review
Free Games History

Free Games Statistics

Submitted by admin
Submitted Sun Aug 17 2003
Last Update on Sat Aug 30 2003
Link ID: 922
9154 hits since Sun Aug 17 2003
16 voters have rated it 6.75