Free Games
:
Free Game Demos
: Lemonade Tycoon
Lemonade Tycoon
popular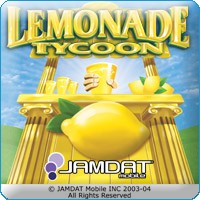 Lemonade Tycoon serves up a cool lemony twist on business simulation games. Test your entrepreneurial skills to find out if you have what it takes to build a little stand into a big business. Pick the best location, check the weather forecast, tweak recipes, set prices and manage inventory.
Reflexive.arcade
Please Rate this link from Bad to Good
Latest User Review
Lemonade Tycoon
(4/5) Reviewed by User: orestessdy on 2003-11-16
When I first saw the title of the game, I really did not bother to download it but after I have tried to play it with the PC of my neighbor, I liked it!!! I loved how this game spend my time. Now I am so addictive to play the game! Try it!
Read 10 Reviews
-
Add a Review
Free Games History

Free Games Statistics

Submitted by admin
Submitted Thu Jul 31 2003
Last Update on Fri May 06 2005
Link ID: 360
104015 hits since Thu Jul 31 2003
This link is Popular
136 voters have rated it 6.82