Free Games
:
Free Online Games
: Poppit
Poppit
popular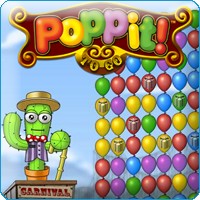 Poppit is a single-player game with group chat. Pop groups of same-colored balloons to release prizes!
www.reflexive.com
Please Rate this link from Bad to Good
Latest User Review
Classic Game!
(4/5) Reviewed by User: Jammer on 2003-07-30
Game Play: This is quite a simple game where you must pop balloons that are the same colour but only when they are in groups of 2 or more. The remaining balloons under the popped ones rise to fill any gaps and you must be careful to pop the right balloons so you are lining up future combinations as you go. You win tokens for playing letting prizes drop - If you can end up with 5 or less balloons you win big - I have played about 30 games to date and have not been able to achieve this so I do not know what the prize is for achieving this. The fact I have not achieved this is reason enough for me to keep trying though. Although this is single player, you can also chat to other players on your course. Tokens: This game is part of the pogo.com game range which means you have to sign up on pogo and you can then earn tokens for all the games you play. These Tokens can be cashed in to buy tickets in real cash draws (from $50-$1000 US) but you must be in US to enter. Why is it Free: The game is free because you have to sit through 30 secs of advertising as the game loads, and in between the 9th and 10th holes.
Read 1 Reviews
-
Add a Review
Free Games History

Free Games Statistics

Submitted by Jammer
Submitted Tue Mar 12 2002
Last Update on Tue Jul 11 2006
Link ID: 34
141403 hits since Tue Mar 12 2002
This link is Popular
96 voters have rated it 6.56