Free Games
:
Free Online Multiplayer Games
: Dormant Cells
Dormant Cells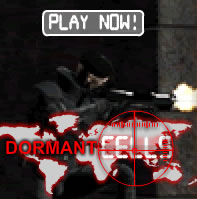 This game is a massive multiplayer online strategy game. Themed around global terrorism, the game play is heavily focused on gathering and utilizing intelligence to plan your actions, and not just brute force and large numbers to ensure victory.
www.dormantcells.com
Please Rate this link from Bad to Good
Latest User Review
First Of It's Kind
(5/5) Reviewed by User: Kirosha on 2007-09-07
Or at least the first I have come across. "Welcome to DormantCells. You are about to enter the most dangerous universe in the world. Global Terrorism is rising. Intelligence agencies worldwide have been reporting terrorist threats in airports, nuclear plants and high density public spaces. In DormantCells you will be part of this scary world for the good or for the bad. Your faith and your political actions will either save us or kill us all." Counter Terrorist or Terrorist, you are pitted against fellow players in a struggle to become the largest organization in the world. Don't think that it can happen overnight. Each Round lasts 10 days, with the option of coming in during the middle of each Round. This game is still under construction, so any input is very welcome. Be sure to check out this Browser-based MMORPG.
Read 1 Reviews
-
Add a Review
Free Games History

Free Games Statistics

Submitted by Commander Ladak
Submitted Thu Aug 30 2007
Last Update on Fri Nov 16 2007
Link ID: 2123
6085 hits since Thu Aug 30 2007
25 voters have rated it 4.03