Free Games
:
Free Adventure Games
: Ultimate Sonic
Ultimate Sonic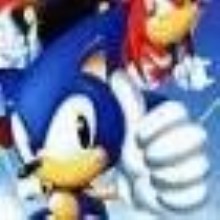 Sonic is back for yet another classic vintage Sonic adventure!
http://www.play181.com/index.php?action=playgame&gameid=19
Please Rate this link from Bad to Good
Latest User Review
Sonic
(3/5) Reviewed by User: deed on 2007-04-29
This game is a pretty old game, yet may suprise you on how good it is! its a fun game that has sonic, tails, knuckles and cream! you can choose which one to play with! they all have special abilitys that are way cool!!
Read 1 Reviews
-
Add a Review
Free Games History

Free Games Statistics

Submitted by play181
Submitted Thu Apr 26 2007
Last Update on Thu Apr 26 2007
Link ID: 2020
23841 hits since Thu Apr 26 2007
86 voters have rated it 6.17