Free Games
:
Free Action Games
: Alien Arena 2007
Alien Arena 2007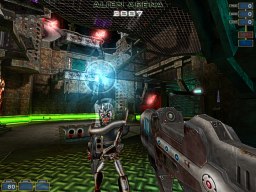 Alien Arena 2007 is a standalone freeware online deathmatch game with fast paced action, tons of content, game modes and resources. The engine features modern effects such as real-time lighting and shadows, light bloom, reflective surfaces, shaders and much more, while still being able to run even on modest systems. There is a large community of players, stats tracking, and a growing number of 3rd party maps, models and add-ons for the game.
http://cor.planetquake.gamespy.com/arena
Please Rate this link from Bad to Good
Latest User Review
Excellent
(5/5) Reviewed by User: CallumS on 2007-01-31
This game is absolutley brilliant. Fast paced action and is a must for any first person shooter fan. The community is great and there is always people playing on the servers. The graphics are superb and overall its just a really fun game to play. I highly recomend downloading this game.
Read 1 Reviews
-
Add a Review
Free Games History

Free Games Statistics

Submitted by alienrace
Submitted Mon Jan 22 2007
Last Update on Mon Jan 22 2007
Link ID: 1925
15493 hits since Mon Jan 22 2007
71 voters have rated it 6.22