Free Games
:
Free Online Multiplayer Games
: Tiny Warz
Tiny Warz
popular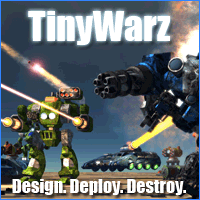 A Free Massively Multiplayer Turn-based Strategy game. Build and modify vehicles, customize your commander with skills and abilities, improve your crews through training and combat, join a faction and battle to control entire planets!
www.tinywarz.com
Please Rate this link from Bad to Good
Latest User Review
Perhaps a little Biased...
(5/5) Reviewed by User: Mallen on 2006-11-02
What can i say? i play the game and i love it, so maybe there is some bias in my score. But none the less: I have found this game to be great fun, and most importantly you can play on all levels. You don't have to put real money into the game to do well, you don't have to spend a lot of time on the game. You don't even need a huge internet connection. Also, the game is constantly updating, and i have found any large updates to fit in extremely well with the rest of the game (the Battle Tech strux as an example) When it comes down to it, it's free, give it a look and see what happens. If you are looking for ultra high-tech 3D graphics and what-not this probably isn't for you. But then again neither will most free games. All i did was try it out, and i'm still playing.
Read 3 Reviews
-
Add a Review
Free Games History

Free Games Statistics

Submitted by admin
Submitted Wed Nov 01 2006
Last Update on Wed Jan 18 2012
Link ID: 1889
94245 hits since Wed Nov 01 2006
This link is Popular
120 voters have rated it 6.46