Free Games
:
Free Online Multiplayer Games
: Eudemons Online
Eudemons Online
popular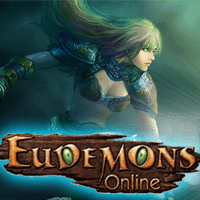 The Eudemons Online is a fantasy MMORPG. In this mythic world, you can choose to become a Warrior, Mage and Paladin. Command your heroes and eudemons to adventure on the vast land of Atlantis and challenge the power of sword and magic. Features *Scenic 2D maps, amiable 3Droles and splendid effects. *Variable eudemons System *Mentor and Apprentice System *Legion and guild war system *Powerful PK system, while newbies well protected. *Equipment and forging system. *Offline training system. * Grouping and XP system. * Highly expected game updates & new functions released every week.
http://www.eudemonsonline.com
Please Rate this link from Bad to Good
Latest User Review
Awsome game!!!
(5/5) Reviewed by User: KrazyRyan on 2006-08-21
man this game is awsome if u like conquer online u will like this game u dont have to make an account u can use ur conquer id and pass man this game is awsome give it a try trust me u will like it !!!!!!
Read 13 Reviews
-
Add a Review
Free Games History

Free Games Statistics

Submitted by EmillyLee
Submitted Mon Aug 14 2006
Last Update on Fri Apr 13 2007
Link ID: 1797
123850 hits since Mon Aug 14 2006
This link is Popular
137 voters have rated it 6