Free Games
:
MMORPG
: Space Odyssey
Space Odyssey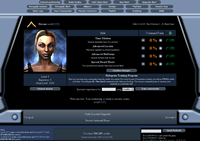 A really cool MMORPG game, a Virtual World where you command your own mothership. You gain ranks, experience, design, board, raid, merchant, mercenary, pirate. All FREE :)
http://www.spaceo.net
Please Rate this link from Bad to Good
Latest User Review
Horrible
(1/5) Reviewed by User: NGC6027 on 2007-07-02
A slow game, I suppose it's OK for someone who is just looking for something to do for 5 minutes/day. If you're looking for some quick fun, STAY AWAY!!!
Read 11 Reviews
-
Add a Review
Free Games History

Free Games Statistics

Submitted by siremi
Submitted Mon Apr 10 2006
Last Update on Mon Apr 10 2006
Link ID: 1720
15050 hits since Mon Apr 10 2006
413 voters have rated it 7.41