Free Games
:
MMORPG
: The Ultimate Businessman
The Ultimate Businessman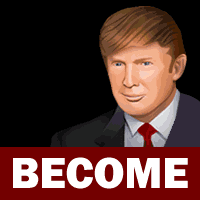 This is the first and unique free strategic massive multiplayer online game based on the real business world. Hire employees, produce goods, collect cash, buy shares, and compete with others to become the Ultimate Businessman. You can become a lifetime supporter for as low as $5 and win more than $1,000 each week for the rest of your life. Sign up now and get to business!

SPECIAL ANNOUNCEMENT: The game is constantly improving. You must check it out.
www.theubm.com
Please Rate this link from Bad to Good
Latest User Review
too many money games
(1/5) Reviewed by User: beefben on 2006-03-04
whats become of this site its only made up of mafia games and others like this.... seriously this site has to stop showing these type of games because these games suck... thats y i gave it a 1.
Read 3 Reviews
-
Add a Review
Free Games History

Free Games Statistics

Submitted by Karim
Submitted Mon Feb 27 2006
Last Update on Thu Feb 12 2009
Link ID: 1685
10599 hits since Mon Feb 27 2006
22 voters have rated it 3.04