Free Games
:
Free Games Publishers
:
Reflexive Arcade
: Bejeweled 2 Deluxe
Bejeweled 2 Deluxe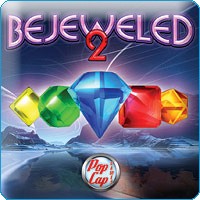 Take the classic game of gem-swapping to euphoric new heights! Adapted from its predecessor, Bejeweled 2 features four unique ways to play. Solve handcrafted brain teasers in puzzle mode while up against the clock or kick back, relax and enjoy endless mode. With awe-inspiring planetary backdrops, explosive new gems and dazzling special effects, Bejeweled 2 is more wildly addictive than ever before!
www.reflexive.com
Please Rate this link from Bad to Good
Latest User Review
free games
(3/5) Reviewed by User: Akasha on 2007-06-26
bejeweled 2 deluxe
Read 1 Reviews
-
Add a Review
Free Games History

Free Games Statistics

Submitted by admin
Submitted Tue Oct 04 2005
Last Update on Tue Oct 04 2005
Link ID: 1641
26364 hits since Tue Oct 04 2005
146 voters have rated it 7.23