Free Games
:
Free Adventure Games
: ZEPIRATES
ZEPIRATES
popular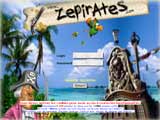 White arm fights, pirates games, treasure hunting, crews confrontation, etc... Zepirates is a really nice simulation game, which immerses you in a quite exotic atmosphere.
http://en.zepirates.com
Please Rate this link from Bad to Good
Latest User Review
Uh..
(1/5) Reviewed by User: Iris_Star on 2005-11-03
This isn't even a MMORPG... Its more like a cheesy pirate for of www.pokemoncenter.com They like let you pick a character pirate and then they like put it in a room. This is like them telling you too have fun with a paper cut out of a pirate... I don't recomend it..
Read 4 Reviews
-
Add a Review
Free Games History

Free Games Statistics

Submitted by sissi
Submitted Mon Oct 03 2005
Last Update on Wed Jul 12 2006
Link ID: 1638
42398 hits since Mon Oct 03 2005
This link is Popular
102 voters have rated it 5.85