Free Games
:
Free Games Publishers
:
Reflexive Arcade
: Zuma
Zuma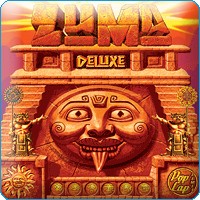 The original trailblazer in the action puzzle genre! Fire colored balls to make sets of three, but don't let the chain reach the golden skull or you're history! With over 20 temples to explore and 2 unique gameplay modes, Zuma is a non-stop never-ending puzzle challenge. Let the tribal sounds and music surround you with the world of Zuma. You won't want to come back!
www.reflexive.com
Please Rate this link from Bad to Good
Latest User Review
Most addictive game ever created!
(5/5) Reviewed by User: Monster500 on 2006-02-06
This game is so addictive I even bought the CD of Zuma!It also came with 13 other games!
Read 2 Reviews
-
Add a Review
Free Games History

Free Games Statistics

Submitted by admin
Submitted Tue Sep 20 2005
Last Update on Tue Sep 20 2005
Link ID: 1627
17801 hits since Tue Sep 20 2005
120 voters have rated it 7.5