Free Games
:
Free Games Publishers
:
Reflexive Arcade
: Snowy: Treasure Hunter
Snowy: Treasure Hunter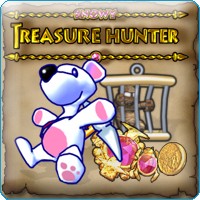 Snowy's back and on the hunt for hidden treasure! Help Snowy work his way through ancient labyrinths collecting pieces of gold as he goes. Can you outwit the terrible monsters in your quest for riches? Use your skill and Snowy's bonuses to reach the end. There is also a special game mode designed for younger treasurer hunters!
www.reflexive.com
Please Rate this link from Bad to Good
Free Games History

Free Games Statistics

Submitted by admin
Submitted Tue Aug 23 2005
Last Update on Tue Aug 23 2005
Link ID: 1599
1164 hits since Tue Aug 23 2005
6 voters have rated it 5.50