Free Games
:
Free Games Publishers
:
Reflexive Arcade
: Aquabble Avalanche
Aquabble Avalanche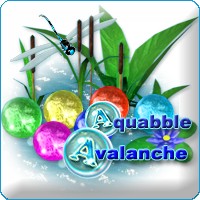 Burst the magic bubbles in this beautiful aquatic game. With 2 addictive gameplay modes, you can choose non-stop action or relaxing puzzle mode. Both allow you to enjoy breath-taking surroundings and lots of fun power-ups. Let the beautiful 3D graphics and relaxing sounds transport you to another world!
www.reflexive.com
Please Rate this link from Bad to Good
Free Games History

Free Games Statistics

Submitted by admin
Submitted Tue Aug 23 2005
Last Update on Tue Aug 23 2005
Link ID: 1594
831 hits since Tue Aug 23 2005
3 voters have rated it 5.00