Free Games
:
Free Games Publishers
:
Reflexive Arcade
: Diner Dash
Diner Dash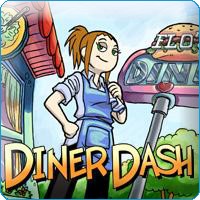 Ditch your desk job, roll up your sleeves, and serve up some grub! Diner Dash blends the best in fast paced action puzzles with a build-your-own-restaurant-empire theme that encourages players to serve their way to the top. Whether you're an entrepreneur dreaming of your own chain of restaurants, or are just looking for a way to escape the grind of your own day job, you'll love the can't-put-it-down gameplay and unique world of Flo's DINER DASH!
www.reflexive.com
Please Rate this link from Bad to Good
Latest User Review
Great
(4/5) Reviewed by User: mariahroo on 2005-11-18
its fun and hard. you go through many lvls and feed kids and old guys theres a heath inspecter and maybe more i cant get any higher.
Read 3 Reviews
-
Add a Review
Free Games History

Free Games Statistics

Submitted by admin
Submitted Mon Jun 27 2005
Last Update on Mon Jun 27 2005
Link ID: 1531
14970 hits since Mon Jun 27 2005
83 voters have rated it 7.21