Free Games
:
MMORPG
: Daimonin MMORPG
Daimonin MMORPG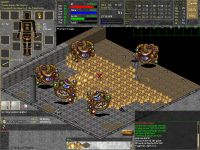 FREE real-time Massive Multiplayer Online RPG. Playable under Window, Linux and MacOS. Fast expanding world & community. Thousands of items, monster, quests, NPC's...
http://www.daimonin.net
Please Rate this link from Bad to Good
Latest User Review
Well, i am the project founder..
(5/5) Reviewed by User: mytoen on 2005-06-15
And of course i like my game. I really think you will like it. And when not - its open source. YOU can make it better too. Download the editor and does some maps & quests, create some art or music or even extend the code. Look at the homepage - you will find alot information on it. Enjoy.
Read 2 Reviews
-
Add a Review
Free Games History

Free Games Statistics

Submitted by mytoen
Submitted Tue Jun 14 2005
Last Update on Tue Jun 14 2005
Link ID: 1525
25976 hits since Tue Jun 14 2005
14 voters have rated it 4.21