Free Games
:
Free Games Publishers
:
Reflexive Arcade
: 5 Spots II
5 Spots II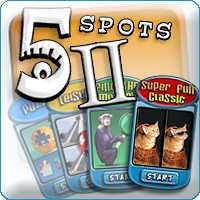 Spot the errors or else spot the monkeys! 5 Spots II offers hundreds of beautiful photos, and thousands of randomly-chosen errors to spot, meaning it's never the same game twice! With dazzling graphics and vibrant sound effects, 5 Spots II is pure addiction. With four distinct and entertaining game modes and a well-balanced learning curve, this unmissable game has an appeal that spans generations.
www.reflexive.com
Please Rate this link from Bad to Good
Latest User Review
Enjoyed spotting monkeys even when
(4/5) Reviewed by User: Pinkyrules on 2007-03-28
it was just a tail. But then I like trying to spot the differences in pictures. One of the few things in the newspaper or magazines that I enjoyed and now it's available as a game.
Read 1 Reviews
-
Add a Review
Free Games History

Free Games Statistics

Submitted by admin
Submitted Tue Mar 29 2005
Last Update on Tue Mar 29 2005
Link ID: 1408
1433 hits since Tue Mar 29 2005
7 voters have rated it 7.28