Free Games
:
Free Games Publishers
:
Reflexive Arcade
: Spongebob Collapse
Spongebob Collapse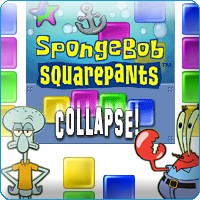 What's more fun than watching SpongeBob SquarePants, or playing Collapse!? SpongeBob SquarePants Collapse, of course! Our latest game offers you the best of both! Think Super Collapse, but with SpongeBob, Patrick, Sandy, bubbles, jellyfish and starfish -- you get the picture -- it's SpongeBob SquarePants Collapse!
www.reflexive.com
Please Rate this link from Bad to Good
Latest User Review
Played it several years ago and liked it then!
(5/5) Reviewed by User: Pinkyrules on 2007-03-28
Like Super Collapse which I like only with SpongeBob characters showing up.
Read 1 Reviews
-
Add a Review
Free Games History

Free Games Statistics

Submitted by admin
Submitted Tue Mar 29 2005
Last Update on Tue Mar 29 2005
Link ID: 1392
6105 hits since Tue Mar 29 2005
29 voters have rated it 7.3