Free Games
:
Free Online Games
: Megalo People
Megalo People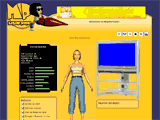 This is a game of human life simulation, among the Sims and Tamagotchi. Virtual doll (male or female) to feed, dress, care,etc... Your aim ? Be the most popular and make your character a celebrity of the Jet Set :)
http://us.megalopeople.com
Please Rate this link from Bad to Good
Latest User Review
megalo people
(4/5) Reviewed by User: bubbles&blossoms on 2006-10-09
i havent played it yet but when i got on the site it was all in like spanish or somthing i think it was french but i think its gunna be cool.
Read 3 Reviews
-
Add a Review
Free Games History

Free Games Statistics

Submitted by magalopeople
Submitted Tue Mar 29 2005
Last Update on Tue Mar 29 2005
Link ID: 1388
10211 hits since Tue Mar 29 2005
26 voters have rated it 5.93