Free Games
:
Free Game Demos
: 5 Spot
5 Spot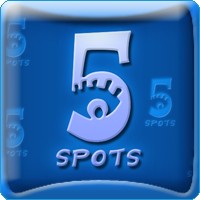 The world's favourite spot-the-difference game! This cleverly executed game offers so much more than expected, with a friendly interface, beautiful and original images, and surprising details. The icing on the cake is that the errors are randomly selected, ensuring that it is never the same game twice. Prepare yourself to be addicted to this fantastic-looking, great-sounding, hilarious version of an all-time favourite.
www.reflexive.com
Please Rate this link from Bad to Good
Latest User Review
I enjoy these type of puzzles
(4/5) Reviewed by User: Pinkyrules on 2007-03-28
some of the differences didn't quite look different but was fun just the same.
Read 1 Reviews
-
Add a Review
Free Games History

Free Games Statistics

Submitted by admin
Submitted Tue Feb 08 2005
Last Update on Tue Feb 08 2005
Link ID: 1354
4350 hits since Tue Feb 08 2005
7 voters have rated it 6.29