Free Games
:
Free Game Demos
: Snail Mail
Snail Mail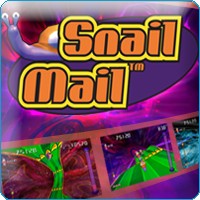 Speedy Delivery! Guide Turbo the Snail through the furthest reaches of the universe to deliver Intergalactic Mail in this fast-paced racing game. But watch out for the evil slugs! Play through all 50 levels in Postal Mode, test your reflexes in Challenge Mode, and get the fastest time in Time Trials.
www.reflexive.com
Please Rate this link from Bad to Good
Latest User Review
SNAIL MAIL
(5/5) Reviewed by User: 1possum1 on 2007-05-25
SNAIL MAIL is the most addicting game with all the best lvls and play modes,i absulutyly love this game the first time i played it i was addicted i have never used drugs but i would say its as addicting as them!!! !luv sars!
Read 1 Reviews
-
Add a Review
Free Games History

Free Games Statistics

Submitted by admin
Submitted Tue Feb 08 2005
Last Update on Tue Feb 08 2005
Link ID: 1331
5128 hits since Tue Feb 08 2005
20 voters have rated it 6.68