Free Games
:
Free Game Demos
: Troll
Troll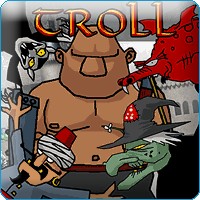 Fantasy breakout action, castle-destroying game with crazy graphics, effects, sounds and monsters. Vile Orcs came from the north and built powerful castles to enslave the defenseless villagers. Poor King Uterus, unable to fight the evil, had to flee into exile. After many days of traveling he met a brave troll warrior who agreed to help destroy the dark castles and bring freedom back to the kingdom!
www.reflexive.com
Please Rate this link from Bad to Good
Latest User Review
Troll
(1/5) Reviewed by User: lumpycat on 2007-03-25
There is no explanation of how to play - not even a start place. Back to the drawing boards boys. This thing isn't ready for cyberspace.
Read 1 Reviews
-
Add a Review
Free Games History

Free Games Statistics

Submitted by admin
Submitted Tue Feb 08 2005
Last Update on Tue Feb 08 2005
Link ID: 1295
1308 hits since Tue Feb 08 2005
4 voters have rated it 6.75