Free Games
:
Free Mobile Phone Games
: Fantasy Worlds: Rhynn
Fantasy Worlds: Rhynn
popular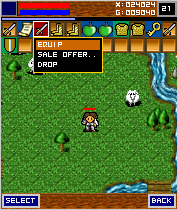 Fantasy Worlds: Rhynn is a real time Massive Multiplayer Online Role Playing Game (MMORPG) for mobile phones. After connecting to the Internet with the mobile phone, it is possible to interact with hundreds of players, controlled by other humans or AI. The goal is to develop your virtual character by either solving quests, trading or fighting with other players.
http://www.awaredreams.com/
Please Rate this link from Bad to Good
Latest User Review
what the?
(3/5) Reviewed by User: Leon on 2004-10-18
this game is for cell phones.... to bad i have a computer and cant play it on here but it looks realy sweet.
Read 3 Reviews
-
Add a Review
Free Games History

Free Games Statistics

Submitted by admin
Submitted Fri Jul 16 2004
Last Update on Fri Jul 16 2004
Link ID: 1218
63685 hits since Fri Jul 16 2004
This link is Popular
96 voters have rated it 6.62