Free Games
:
Free Game Demos
: Snowy the bears adventures
Snowy the bears adventures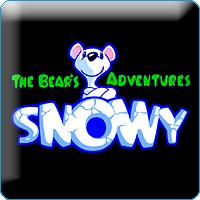 Armed to the teeth with snowballs, our fearless Snowy is turning evil monsters into large balls of snow and ice. But this charming bear doesn't want to do any harm, he simply wants to get back home to the Arctic and collect as many prizes on his way as possible. And with your help, he can do it...but don't worry! All of the monsters will be defrosted afterwards, and no white bears will get hurt.
reflexive.arcade.com
Please Rate this link from Bad to Good
Latest User Review
It was
(5/5) Reviewed by User: sweetpool on 2005-02-24
i dunno couldn't work out how to play it so i gave it a 5
Read 1 Reviews
-
Add a Review
Free Games History

Free Games Statistics

Submitted by admin
Submitted Mon Jul 12 2004
Last Update on Mon Jul 12 2004
Link ID: 1215
8027 hits since Mon Jul 12 2004
8 voters have rated it 4