Free Games
:
Free Game Demos
: Boulder dash Treasure Pleasure
Boulder dash Treasure Pleasure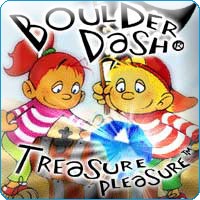 Millions in the Boulder Dash® series have been sold. An arcade hit. Now enjoy the latest action-puzzler with 22 Tutorial levels, 60 Game levels, in 3 different worlds containing many new exciting tools and features: Reverse Gravity (diamonds float underwater); Screen Rotation; Dynamite & Detonators, Bombs; Hammers; Boots; Growing Walls; Magic Walls; Numerous Enemies. Easy to learn, difficult to master.
arcade.reflexive.com
Please Rate this link from Bad to Good
Free Games History

Free Games Statistics

Submitted by admin
Submitted Tue Jun 29 2004
Last Update on Tue Jun 29 2004
Link ID: 1192
3936 hits since Tue Jun 29 2004
2 voters have rated it 6.00