Free Games
:
Free Game Demos
: Digbys donuts
Digbys donuts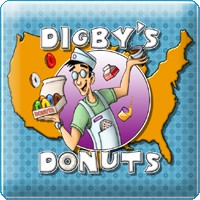 No one can resist Digby's delicious donuts! Join Digby as he opens a chain of donut shops in major cities across the country! Catch, stack and drop colorful donuts to form matches and combos while avoiding blunders. Travel to 20 different cities across more than 80 levels. Unique bonus rounds & original music for lots of fun!
http://www.reflexive.com/index.php?PAGE=game_detail&CID=4113&AID=86
Please Rate this link from Bad to Good
Latest User Review
Donuts
(3/5) Reviewed by User: Dominic on 2004-10-11
Cute but no directions and unclear how to play!!
Read 1 Reviews
-
Add a Review
Free Games History

Free Games Statistics

Submitted by admin
Submitted Tue Jun 29 2004
Last Update on Tue Jun 29 2004
Link ID: 1179
13962 hits since Tue Jun 29 2004
8 voters have rated it 7.63