Free Games
:
Free Word Games
: Book Worm
Book Worm
popular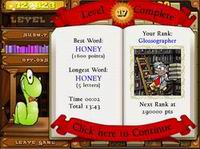 Are you ready for smoking hot word-building action? Then grab yourself a copy of BookWorm, our brand new word game smash! The Deluxe downloadable version includes all-new graphics, sound, and music... plus the brand new Action mode, Diamond and Sapphire tiles, local and internet high scores, and more! All you have to do is form words to feed Lex the Bookworm!
http://www.popcap.com
Please Rate this link from Bad to Good
Latest User Review
GREAT GAME!!
(5/5) Reviewed by User: baldy137 on 2006-05-10
Compare to scrabble; easier scoring. Gameplay fast but not frenetic. Large dictionary, but not ridiculous. This game satisfies search for challnging scrabble- or anagram-type game that keeps it simple and entertaining.
Read 2 Reviews
-
Add a Review
Free Games History

Free Games Statistics

Submitted by admin
Submitted Sun Apr 25 2004
Last Update on Sun Apr 25 2004
Link ID: 1120
75179 hits since Sun Apr 25 2004
This link is Popular
202 voters have rated it 7