Free Games
:
Free Adventure Games
: RealMud
RealMud
popular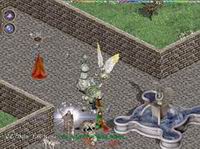 The 4th Coming (T4C for short) is a massively multi-player online role-playing game (MMORPG) developed by Vircom Interactive, the online games division of Vircom inc. The 4th Coming is the only MMORPG developed by an independant studio and licensed to large Internet Service Providers (ISPs), Gaming Portals and Game Publishers around the world. T4C distinguishes itself from the other few MMORPG on the market with its familiar isometric third-person view and with its sophisticated quest engine. The action-oriented gameplay is somewhat of a cross-breed between Ultima Online™ and Diablo™.
http://www.realmud.com
Please Rate this link from Bad to Good
Latest User Review
Real Medical Bill!
(1/5) Reviewed by User: Puremage188 on 2004-05-02
UGH!!!!! I hated myself for playing this game! The torture of fighting off unlogical enemies and hearing quite retarded noises! Everyone says this game was good but............ I DONT THINK SO!!!!!!!!!!! Here's a little tip, if oyou think this game looks cool from the dragon on the front, its not! Its no better then Altered Beast for the sega genesis!!! Puremage188
Read 30 Reviews
-
Add a Review
Free Games History

Free Games Statistics

Submitted by Xtasy
Submitted Thu Feb 05 2004
Last Update on Wed Mar 17 2004
Link ID: 1040
191924 hits since Thu Feb 05 2004
This link is Popular
82 voters have rated it 5.11