Free Games
:
Free Game Downloads
: Mah Jong
Mah Jong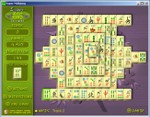 Classic Downloadable game of Mah Jong - you can download it or play it online. I like the downloaded version best. Some people call it Marjong or Tiles
http://www.gamehouse.com/mahjong
Please Rate this link from Bad to Good
Latest User Review
Real Cool Mahjong
(5/5) Reviewed by User: Jammer on 2003-07-30
I really Like this game. There are plenty of tile sets to choose from and there are tons of layouts also. The sound effects are realy cool and overall this is my favorite game of Mahjong.
Read 2 Reviews
-
Add a Review
Free Games History

Free Games Statistics

Submitted by Jammer
Submitted Thu May 09 2002
Last Update on Thu Jul 31 2003
Link ID: 100
29490 hits since Thu May 09 2002
13 voters have rated it 5.54